Mining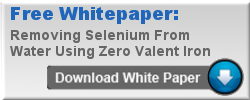 Economical solutions for coal mine water treatmentaccelerate selenium compliance
At surface coal mine sites where dissolved selenate is found in seeps or retaining ponds,
ZVIS is delivering surface water treatment systems that effectively reduce selenium discharge levels to meet or exceed strict environmental compliance standards.
Because ZVI has been proven to capture a variety of metal contaminants (See "Contaminants Treated"), our ZVI technology is used in the treatment of mining influenced water (MIW) that could potentially release contaminants into retention ponds and streams.
ZVIS Remediation
Zero Valent Iron Solutions is continually working with scientists, academics, regulating bodies and mine operators to install proven and tested treatment systems. Water flowing through mine seeps passes through these systems where selenium is successfully captured and retained.
ZVIS systems are economical and effective
Proven effective in production usage
Effective across a variety of conditions
Spent ZVI media in many cases can be disposed of as normal waste.
See what a small installation looks like
If you have mine and above ground wastewater issues, contact our experts at 866.900.9828 to discuss potential solutions.