Selinium Compliance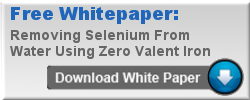 ZVIS delivers site-specific solutions that keep you in compliance with EPA selenium discharge standards
Zero Valent Iron Systems will provide a complete treatment system based on our proven, scalable treatment tanks containing zero valent iron media. These systems are designed and scaled to customer and site specifications based on numerous criteria such as:
Seep average and peak flow rate
Site topography
Cost and discharge limit considerations
Source water chemistry & starting selenium concentrations
Local environmental regulations
Ready to start solving your selenium compliance problems? We're here to help you quickly and inexpensively get the answers you need to make an informed decision.
Free Consultation - Call us at 866.900.9828 to schedule your complimentary consultation with one of our specialists.
In-Lab Treatability Study – We test your water in our lab. Get quality predictive results before moving to a pilot or full scale implementation.

Take the first step in solving your selenium compliance problems and call ZVIS at 866.900.9828 to set up your complimentary consultation.